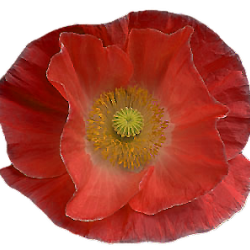 The History of the Poppy Appeal
On 2nd May 1915, one of McCrae's close friends, Lieutenant Alex Helmer was hit by a shell and killed. In the absence of a chaplain, McCrae took charge of the hastily convened funeral service and Helmer was buried in a make-shift grave just behind the lines. Wild poppies were beginning to flower between the growing number of wooden crosses, and it is thought that this sight and the feelings he experienced, provided McCrae with the inspiration for his poem In Flanders Fields, which was reputedly written the following day.
It was published anonymously in Punch on 8th December 1915, and was an instant success, touching the hearts of millions, with its message that the deaths of so many should not be allowed to take place in vain. In 1918, an American YMCA worker and teacher, Moina Michael, came across a copy of this poem and was particularly moved by its message. When Moina was presented with a cheque for $10 by delegates attending a conference in the YMCA building she used this money to buy twenty-five red poppies to give out to the attending delegates. Moina considered that, because the money used to buy these poppies was a donation, she was responsible for the first sale of poppies to commemorate the dead of Flanders.
In 1921, Madame Guérin, who had become known as 'The Poppy Lady from France', visited Earl Haig to persuade him to help with the adoption of the poppy as a symbol of remembrance in Great Britain. He agreed and then used his influence as former Commander in Chief of British Forces, to help amalgamate several veterans associations, thus forming the British Legion.
The first official Legion Poppy Day was on the 11th November 1921. In 1922, the Poppy Factory was established, its aim being to allow the disabled to manufacture poppies for the appeal. The Factory, at Richmond in Surrey, still exists and today and over 70% of the workers there are disabled or suffer from chronic illness. The British Legion was granted its 'Royal' designation in 1971 and now produces over 34 million poppies every year, raising annually in excess of £21 million. The poppy is used across the world to commemorate the dead, and assist those affected by war.
This remarkable achievement is due to the hard work and dedication of many thousands of volunteers, who work tirelessly, year after year, to raise funds. In acknowledging their efforts, one must also remember the inspiration of fifteen lines of poetry, written in a very different world, nearly one hundred years ago, on a warm spring morning in 1915, by John McCrae.