The Dardanelles
While a great deal of the action during the First World War took place on the Western Front, there were many among the Allies who sought to divert attention to somewhere else and it was generally agreed that the best place for this was to launch an offensive in the Dardanelles, against the Turks. This plan was proposed to the war cabinet by First Lord of the Admiralty, Winston Churchill and consisted initially of a series of naval attacks, which began on February 19th. Over the coming weeks, the British and French naval vessels bombarded the Dardanelles, but many ships were lost, particularly from mines and the offensive was soon abandoned.
It was decided, therefore, that a full ground attack was required and, on April 25th, this began with landings at Helles and Gaba Tepe (which became known as Anzac Cove). Although two beachheads were established and further landings were made, the Turks were well dug-in and prepared for defence. By the middle of 1915, little progress had been made, but there were many casualties both from battle wounds and due to various digestive disorders.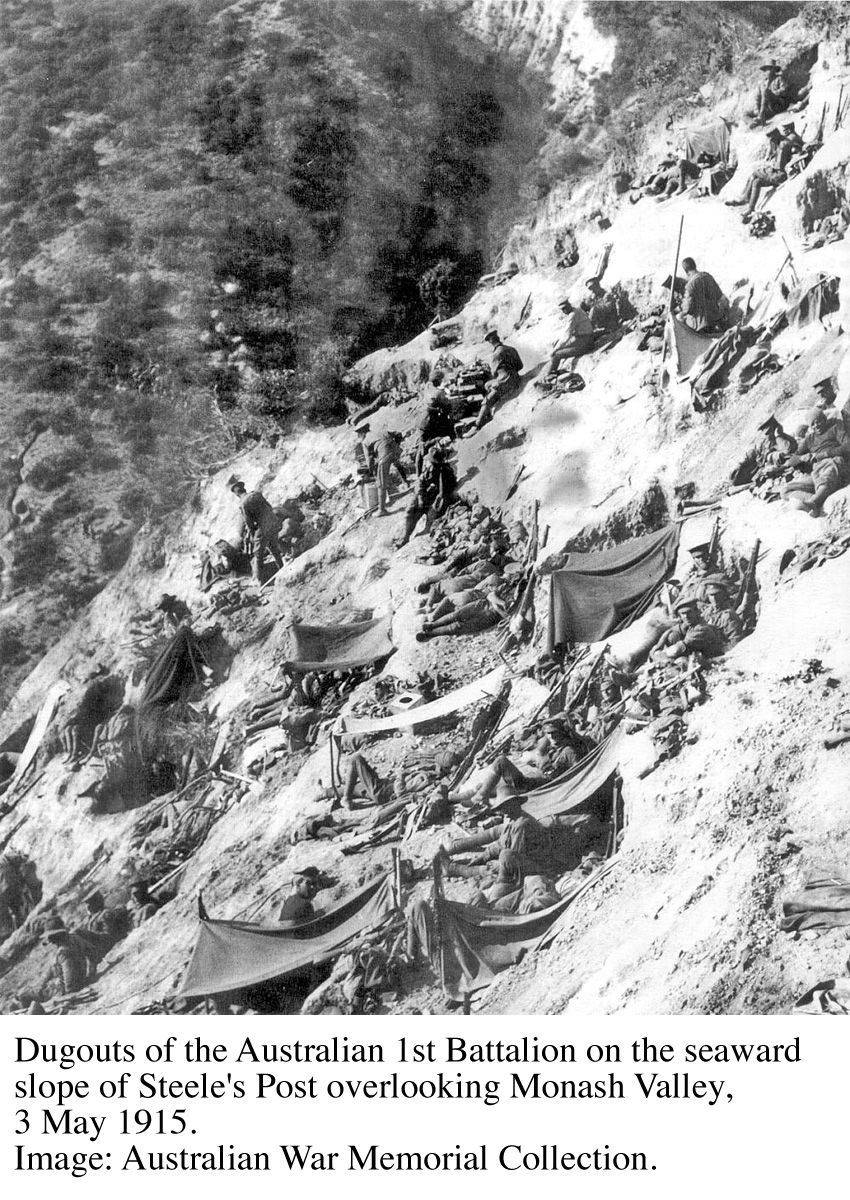 The campaign continued through the summer, but by the autumn, there was stalemate and it was decided that Allied Troops should be withdrawn. This exercise, which was probably the most successful part of the whole campaign, began on 7th December.
The Dardanelles campaign, or Gallipoli – as it has now become known – saw the first major combat of the war for the Australian and New Zealand Army Corps (ANZACs), who suffered huge losses, but showed themselves to be both brave and honourable men. Due to the failure of this campaign, Winston Churchill resigned from the government and went to the Western Front, where he served for several months.
Gallipoli Literary Links
Several of the war poets served in the Dardanelles Campaign, including Patrick Shaw-Stewart, Nowell Oxland, Geoffrey Dearmer and Alan P. Herbert. Rupert Brooke also sailed for Gallipoli on 28th February 1915 aboard the Grantully Castle. By the beginning of April, while still on board, he had become sick, having developed a sore on his upper lip. Although his health seemed to rally, by 20th April he was again complaining of feeling unwell and was transferred to a hospital ship, where surgeons and medical officers diagnosed the cause of the problem as an infected mosquito bite. Rupert Brooke died on the afternoon of 23rd April 1915, appropriately St George's Day. In a hastily organised funeral on the nearby island of Skyros, he was buried in an olive grove in a simple ceremony attended by his friends, including Arthur Asquith and Patrick Shaw-Stewart.
Patrick Shaw-Stewart himself, like Brooke, served with the Royal Naval Volunteer Reserve, seeing action at Gallipoli, which he survived. A poet of great promise, he had attended Balliol College, Oxford with Julian Grenfell and showed every sign of a promising future, rising to the rank of Lieutenant Commander. Shaw-Stewart was killed in action on 30th December 1917, having refused to go back to his own lines, despite the fact that his ear had been torn off by shrapnel shortly beforehand.
Nowell Oxland had been a childhood friend of fellow war poet William Noel Hodgson and both men had volunteered to serve in the early days of the conflict. Oxland served with the 6th Border Regiment and wrote a poem entitled "Outward Bound" in which he expresses his prophetic regret that he will not return from overseas to see his beloved Cumberland again. This proved sadly true as Oxland was killed at Suvla Bay on 9th August 1915.
Geoffrey Dearmer became one of the longest surviving war poets, living until August 1996, by which time he was 103 years old. During the First World War, Dearmer served with the Royal Fusiliers and the Royal Army Service Corps, seeing action in Gallipoli and on the Western Front. Both his mother and his younger brother, Christopher died during the conflict, the former while nursing and the latter at Gallipoli on 6th October 1915. The son of a clergyman, Dearmer went on to work for the BBC for twenty years and, despite his experiences in the First World War, retained his faith, never becoming embittered.
Alan P. Herbert saw action in Gallipoli serving like Brooke and Shaw-Stewart, in the Royal Naval Volunteer Reserve. He had volunteered on 5th September 1914, sailing for the Dardanelles the following May. By this time, his youngest brother, Owen had already been killed on 27th October 1914. Herbert was invalided home in August 1915, only to find that his father had died in his absence. He also saw action on the Western Front, where he was wounded, only returning to his unit just before the Armistice. After the war, he joined the staff of Punch Magazine and stood, successfully, as an MP in 1935. During the Second World War, Herbert served as a Petty Officer in the Royal Naval Auxiliary Patrol and his wife, Gwen (whom he had married in 1914, just before he went to war) was an ambulance driver. He died in 1971, appropriately on November 11th, still haunted by the friendships he had made and lost on the battlefields of the First World War.